Hot Topics
Flu - Frequently Asked Questions
Though seasonal influenza viruses are detected year round, "flu season" most commonly refers to the increased incidence of illness during fall and winter. According to the CDC, you should not wait for flu activity to be rising or high in your area to get a flu vaccine to protect yourself, your family, and your community from flu. A flu vaccine this season can also help reduce the burden on our healthcare systems responding to the COVID-19 pandemic and save medical resources for care of COVID-19 patients. Though a flu vaccine cannot protect you from COVID-19, it can help you avoid being co-infected with both.
Here are some answers to common questions about flu and this year's vaccines:
What is flu?

 

"The flu" is a common reference to contagious illness caused by influenza viruses. Effects can range from mild symptoms like fever and cough to severe complications that can result in hospitalization or death. Anyone can get flu regardless of their health status, and serious problems related to flu can happen at any age.
Who is most at risk for serious flu complications? Those at higher risk for developing serious complications include older adults, pregnant women, young children, and those with conditions that may make them more susceptible, including but not limited to asthma, diabetes, heart conditions, or cancer. Though most people will have an only mild illness, it is important for everyone to avoid infection altogether, as it can be spread easily to those who are more at risk for severe complications.
How does flu spread? Flu is likely spread by droplets when contagious people cough, sneeze or talk. Vaccination is key in preventing flu, as it has been shown to reduce illnesses and the risk of serious complications. Good hygiene and handwashing are also important in helping prevent its spread, as people can be contagious before they even know they are sick. Stay away from people you know have the flu, and stay home from work or school if you are sick with the flu.
Should I get vaccinated? The Centers for Disease Control and Prevention (CDC) and the Advisory Committee on Immunization Practices (ACIP) recommend annual influenza vaccination for everyone 6 months and older with any licensed vaccine that is appropriate for the recipient's age and health status. These vaccines are available from your physician, pharmacy, and other health care providers. Student Health Services provides free vaccinations for students, and appointments can be scheduled here.  
Should anyone not get the flu vaccine? Children under 6 months and people with severe, life-threatening allergies to the flu vaccine or any components of the vaccine should not get the flu shot. If you have an allergy to eggs or any ingredients in the vaccine, if you have ever had Guillain-Barré Syndrome, or if you are not feeling well, talk to your health care provider before getting vaccinated.
When should I get my flu vaccine? The CDC recommends vaccination by the end of October. Some children 6 months through 8 years of age will need 2 doses, so they should receive their first dose as soon as possible to allow the second dose (which must be administered at least 4 weeks later) to be received by the end of October.
How do they know if the vaccine will work this year? Flu vaccines are updated each year to better match what viruses are expected to be circulating in the United States. Vaccines this year will have a number of different viral components, and the combination will depend on which vaccine you receive. More information can be found here. Flu viruses are constantly changing, though, so it is not unusual for new viruses to appear.
How soon will the flu vaccine work? It takes about two weeks for antibodies to develop in the body and provide protection against flu infection.
Can the flu vaccine give me the flu? No, that is a myth. Flu vaccines are made with either inactivated (dead) or attenuated (weakened) viruses, and therefore cannot cause flu illness. You may experience mild side effects like soreness, headache, fever, nausea, or muscle aches, which usually go away on their own with a few days.
Where can I get more information about this year's flu season and vaccines? The following links will provide additional information from the CDC:
(Questions and answers adapted from the CDC.)
---
UAS Operations Information
The Texas A&M University System Regulation for UAS Operations
http://policies.tamus.edu/24-01-07.pdf  
Texas A&M University Rule for UAS
https://rules-saps.tamu.edu/PDFs/24.01.07.M0.01.pdf
Texas A&M University Program for UAS Operations
https://ehs.tamu.edu/programs/unmanned-aerial-systems/  
Texas A&M System UAS Flight Application
https://ehs.tamu.edu/programs/unmanned-aerial-systems/
The university's Supervising Authority (SA) Committee meets monthly to consider application requests. UAS flight request applications must be submitted to the SA Committee for compliance review at least 15 days prior to planned flight operations. Approvals are granted by the designated university SA. Any unapproved UAS/UAV flights are disruptive to university operations and will be referred for appropriate disciplinary action.
For further information on using UAS (drones) safely at Texas A&M, please contact Environmental Health & Safety at (979)845-2132 or ehsd@tamu.edu.
---
Bat Safety on Campus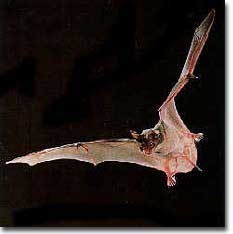 Mexican Free-tailed Bat (via Texas Parks and Wildlife)
 As you may know, a significant number of bats make their home on the Texas A&M campus. Bats are considered high risk for rabies and should never be touched, dead or alive. In addition, a few species found in Texas are considered endangered or threatened and thus, should not be disturbed.
If you should come in contact with a bat, find one dead or alive in a campus building, or see a live bat anywhere that cannot fly, call the Facilities Services Communications Center immediately at (979) 845-4311.

Also, remember to close all windows and doors, especially in the evening, to help keep bats and other animals from entering buildings.

For more information about bats and rabies, please visit the Texas Department of State Health Services Infectious Disease Control website.
---
Proper Lab and Shop Attire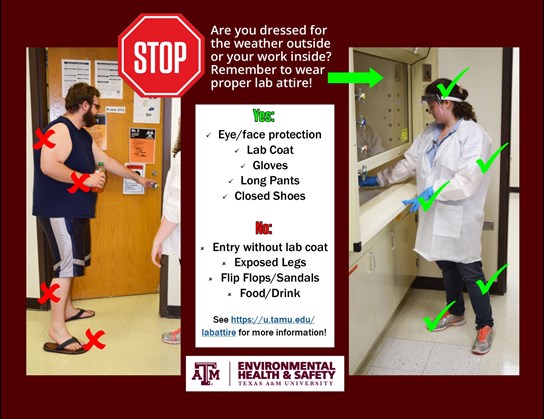 Even when it gets hot outside, personnel are required to wear appropriate attire inside laboratory and shop spaces. Some summer clothing like shorts and sandals do not provide adequate coverage even while wearing appropriate Personnel Protective Equipment (PPE). PPE is essential to preventing exposure or injury to yourself and others, and it can prevent contamination of personal clothing and shared spaces.
Helpful tips:
Most labs on campus require some type of PPE which must be worn when working with hazards or as directed by lab or shop protocol. If you are unsure of what is appropriate or expected, ask your PI or supervisor.
Always wear job-specific PPE that protects your eyes, face, hands, body, and feet. This may include splash goggles, safety glasses, face shields, respiratory protection, chemical-resistant gloves, cut-resistant gloves, aprons, lab coats, and closed shoes (not open on front or back).   
Pay attention to signage on other lab or shop doors – your workspace may have different entry requirements for PPE.
Do not wear your PPE outside of the lab. Remove gloves, lab coats, goggles, etc. before entering the hallway, restrooms, or other public and shared spaces to avoid contaminating surfaces.
Do not take your PPE home.
Remember – no food or drink in labs!
Do not forget long hair, jewelry, and loose clothing – these present a hazard while working with certain tools and equipment.
It may be helpful to keep a change of pants, shoes, etc. in your workspace. This will allow you to dress comfortably for the weather outdoors and change into appropriate attire indoors.
Contact labsafety@tamu.edu if you have any questions!
---
Holiday Safety… A few tips before you go!
The winter holiday season is normally filled with excitement and celebration. Unfortunately, the distractions and hectic pace of the holidays may make us vulnerable to criminal activity and unfortunate events. Here are some tips to keep you safe:
Before leaving your office or workspace on campus, be sure to unplug any space heaters, temporary equipment, and holiday decorations. Practice good housekeeping by cleaning up any collected paper, trash, or combustible decorations. Be sure all doors and windows are secure and do not prop open any facility entrances as you come and go.
Wash your hands often when preparing and serving food at your holiday celebrations, and be sure to maintain proper temperature when cooking and storing leftovers. Click here for more holiday food safety tips from the CDC.
Shop with your safety and security in mind. When parking your vehicle, remember to roll up all windows, lock the doors, take the keys, and secure any valuables in the trunk or conceal them from others. Avoid dark areas, shortcuts, and cul-de-sacs. Stay near people, and shop with friends or family whenever possible. When returning to your vehicle, carry your keys in your hand and be ready to unlock the door and enter as quickly as you can. As you approach the vehicle, scan the area, glance underneath the car, and take a quick look inside before entering.
While dining out or running errands, always be aware of your surroundings. Take time to look at the people and vehicles around you, noting anything suspicious. If you feel that someone is following you on foot, vary your pace, change directions, and go immediately to a well-lit area where there are other people. If you feel someone is following you in a vehicle, stay alert while loading or unloading items in the parking lot. If someone approaches and you feel threatened, get in your vehicle and lock the doors until they leave the area. If they do not leave, then drive away.
Take care of your financial safety as well. Carry minimal cash, valuables, and jewelry while out and about. Credit and debit cards are safer choices than cash transactions, as you may report them stolen or lost if needed. Be cautious of email requests and phone calls wanting to verify confidential account or financial information.
If you plan to leave your home for an extended period of time, be sure to lock all windows and doors. Have a neighbor, family member, or friend check on your house periodically and pick up your newspapers and mail. Leave your indoor and outdoor lights on an automatic timer, so it looks as if you are home.