The Fire and Life Safety group of Environmental Health and Safety is dedicated to helping the Texas A&M University community be a safer place to work, study, live, and play. We do this by assisting in developing and implementation of emergency evacuation planning, inspecting and maintaining portable fire protection equipment, and conducting plan reviews of new construction as well as renovation projects.
Contact Information
James Rainer
Adam Chavarria
David Zeiger
Training Opportunities
Hands-on Fire Extinguisher Training - This course is designed to provide a basic overview of the chemistry of fire as well as the different classifications of fire and types of fire extinguishers. For questions about this course, call 979-845-2132.
Documents
Forms
Links
Watch the Dorm Burn Demonstration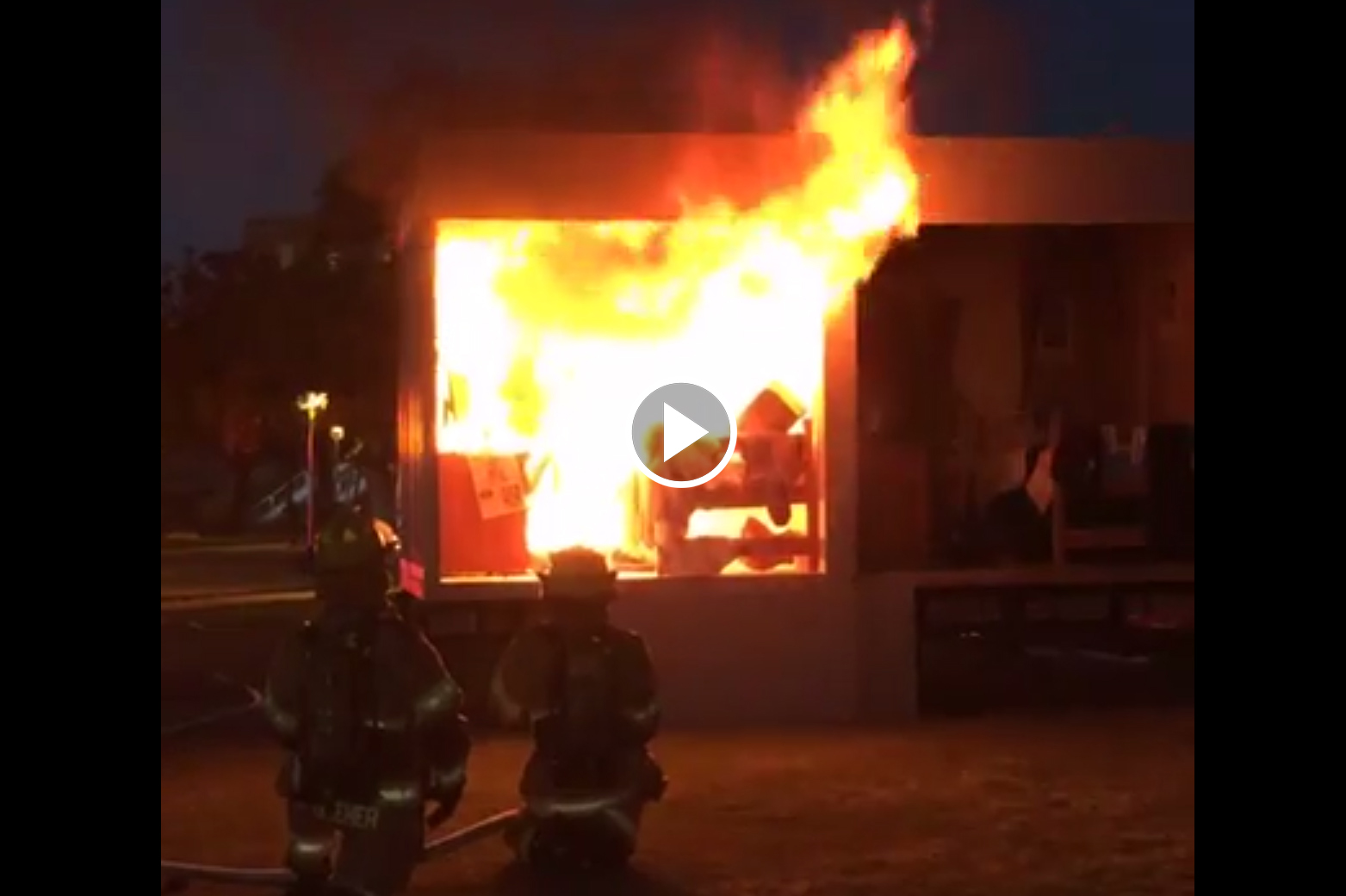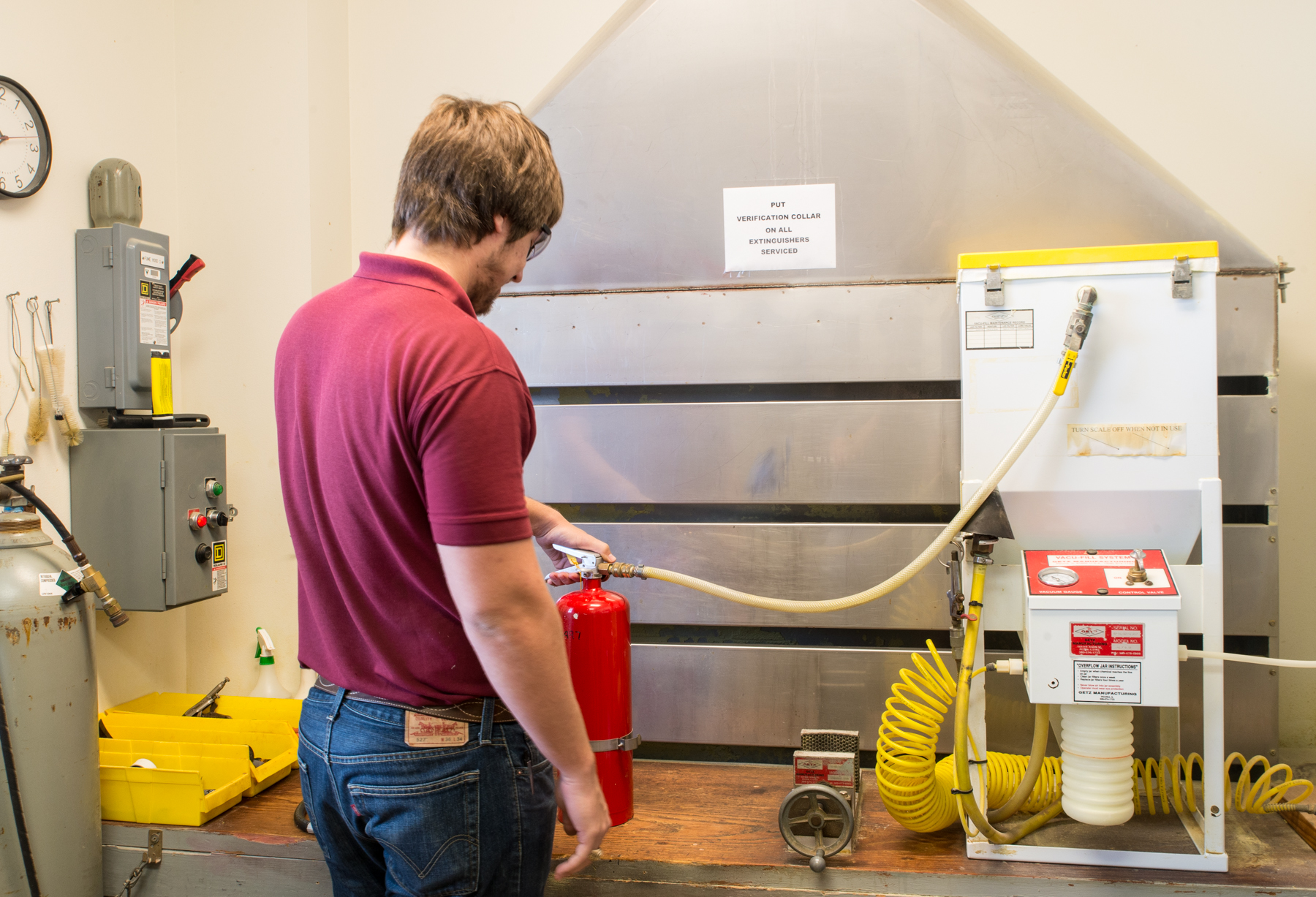 Fire and Life Safety Program Areas
Amusement Rides
Amusement rides may present a significant fire and life safety hazard if not inspected, installed, and operated in accordance with the manufactures instructions, industry standards, and other mandatory regulations.   To ensure the safety of these rides for all faculty, staff, students, and visitors this program has been implemented for the use of any amusement ride on Texas A&M University Campuses.
As defined by the Texas Department of Insurance, an amusement ride is any mechanical, gravity, or water device or devices that carry or convey passengers along, around, or over a fixed or restricted route or course or within a defined area for the purpose of giving its passengers amusement, pleasure, or excitement. Examples of amusement rides include:
Most mobile carnival rides
Most theme park rides
Most water park rides and devices
Amusement rides also include, but are not limited to, the following:

Go-karts
Rock climbing walls
Bungee jumps
Zip lines
Mechanical bulls
Trackless trains
Continuous air-flow inflatable rides/devices (bounce houses, inflatable slides), and various simulators
A university issued permit is required for the use of any amusement ride to be displayed or operated on Texas A&M University campuses.
Reference Documents
Templates, Forms, and Applications               
Website Links
TDI Rules
Building Emergency Action Plans/Drills
Each facility at Texas A&M University is required to have a written building emergency action plan (BEAP) as specified in the Texas A&M University Emergency Operations Plan.  Templates are available in MS Word format for the development of a standard BEAP  as well as one for small unoccupied facilities.  Each department, facility manager, or building contact is responsible for developing and maintaining a comprehensive building emergency action plan and assisting with the coordination of emergency evacuations drills.  For larger facilities or facilities with multiple departments, it is recommended that a small committee with representatives from each floor and/or department be assembled to develop the plan and distribute to building occupants.  
To ensure that building occupants are prepared for an emergency evacuation, drills must be conducted on a regular basis.  Evacuation may be used to vacate a building for several reasons such as fires, gas leaks, chemical spills, bomb threats or other similar emergencies and emphasis should be placed on orderly evacuation rather than on speed and should:
Involve all occupants

Everyone should leave the building when the fire alarm sounds
A person may be exempt from an evacuation drill if it will cause undue hardship (e.g., interrupt an experiment or procedure that cannot be halted); however, exemptions are strongly discouraged

Occupants should close (not lock) doors as they leave the work area, provided this does not violate security procedures. Items that require security may be placed in a locking file cabinet or desk drawer on the way out
Floor proctors should check all rooms and close doors on their way out
All building occupants should gather in the preplanned meeting place
Floor proctors should take a "head count" to determine if all occupants have left the building
Upon completion of the drill, an evaluation of the drill shall be conducted and filed with EHS to identify any areas for improvement and to document the drill
Reference Documents
Texas A&M University Emergency Operations Plan – Annex E
Templates, Forms, and Applications
Building Emergency Action Plan Template
Drill Evaluation Form*
Candles and Incense
The use of candles, incense burners, oil lamps and other items are governed by university SAP 24.01.01.M7.02 – Restriction on Candles.  
General guidelines include:
Candles, incense burners, oil lamps or other personal items that have open flames or that smolder, are prohibited in work areas (individual or group), conference rooms, restrooms, etc. in all campus buildings, regardless of whether the item has been lit.
Candles, flame effects, or pyrotechnics used for banquets, ceremonies, science demonstrations, theatrical productions, indoor fireworks or other entertainment are addressed in a separate SAP 24.01.01.M7.01 – Use of Pyrotechnics, Flame Effects, or Laser Light Shows
This use of candles does not apply to such devices used in the course and scope of University or Agency sponsored research or activities necessary to conduct business operations. If the burning of a candle(s) is permitted under the above-mentioned exemption, the candle must be in a glass or similar container and kept away from combustible materials.
Students living in residence halls and University-owned apartments are governed by similar but separate rules administered by the Department of Residence Life.
In lieu of candles, listed (UL, FM, ETL) air fresheners and wax or potpourri warmers may be used.
Regulations, Rules, and Standard Administrative Procedures
TAMU SAP – Restriction on Candles
Texas A&M University SAP 24.01.01.M7.01 – Use of Pyrotechnics, Flame Effects, or Laser
Website Links
Crowd Manager Training
To conform with the requirements of NFPA 1 – Fire Code and NFPA 101 – Life Safety Code©, EHS has developed a crowd manager program as well as trainings that shall be completed by any faculty, staff, student, or third-party vendor and their staff who may serve in the capacity of a crowd manager or crowd manager supervisor at Texas A&M University. This training would include, but not be limited to, the following levels:
Crowd Manager – General Training
Crowd Manager – Supervisor Training
Crowd Manager – Venue Specific Training(s)
 Regulations, Rules, and Standard Administrative Procedures
 Texas A&M University SAP 24.01.01.M7.04 – Crowd Manager Program
Website Links