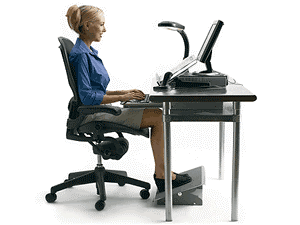 The Ergonomics Program provides evaluations of office setups and work practices as requested by Texas A&M employees.
To request an ergonomic evaluation, please send your name, office address/location (building and office number), and preferred day and time to ergonomics@tamu.edu. 
If you would like to schedule a general awareness session for a group please send the department name; a short description of the job duties of the audience; preferred date, time and location for the presentation; and expected goals for the presentation to ergonomics@tamu.edu.
Contact Information
How Do I
Documents
Forms
Links